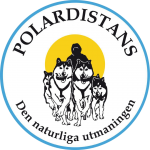 The chief veterinarian and the organizers of Polardistans have decided that the race must comply with EU rules concerning transportation of dogs, with Swedish Board of Agriculture regulations and with the Swedish Kennel Club rules. Considering the actual epidemiological conditions for transmittable dog diseases in Sweden and after discussing with local veterinarians about the low risk for such diseases during winter time, in the area where Polardistans is held, the following mandatory and recommended vaccinations applies for participating in Polardistans:
RABIES:
Vaccination against rabies is mandatory for all dogs coming from other countries than Sweden and Norway.
Rabies vaccination must have been done after the microchip is implanted. Dogs from abroad (exception from Norway) are allowed to enter into Sweden at least after 21 days of waiting period from the vaccination date.
In case of booster vaccination for Rabies, there is no waiting period, as long as the previous vaccination had not expired when the booster was given.
Dogs without a valid vaccination (according to EU passport and specifications from the manufacture of the vaccine) are not allowed to take part in the race.
The vaccination must be approved in the dogs home country and the validity period can be different between countries. The validity must be specified in the dog's passports.
DISTEMPER, PARVOVIRUS INFECTION, CANINE HEPATITIS:
Vaccination against Distemper, Parvovirus infection and Canine hepatitis (DHP) is mandatory for all dogs and is valid, after at least one booster has been done in a 2 to 3 weeks period, until the expiration date of the last booster (as specified by the manufacturer of the vaccine and stated in the EU passport or on the "Vaccination booklet" issued by a veterinarian).
The lastest vaccination for Distemper has to be done at least fourteen (14) days before the race.
LEPTOSPIROS:
Vaccination against Leptospiros is not mandatory, although recommended.
PARAINFLUENZA & KENNEL COUGH:
Vaccinations against, Parainfluenza (PI: parainfluenza virus) and Kennel cough (KC) (parainfluenza virus and Bordetella bronchiseptica bacteria) are not mandatory, although HIGHLY recommended.
To obtain maximum protection of your dogs you have two options:
DHP + KC (nasal or injection)
DHPPI + BORDETELLA (oral)
In case a dog shows suspected symptoms of "Kennel cough" (i.e. Infectious Tracheobronchis), the Veterinarians will put this dog and the rest of the team out of race and will send them away from stake-out or checkpoint areas"
PLAN YOUR TRIP
To avoid problems at the Swedish border and to obtain a smooth registration in the secretariat at Polardistans, competitors are kindly asked to get information's about the vaccines validity from their veterinarian in good time before leaving their home country!